How I Look on Paper: Courtney's Resume
How I Looked at Age 3 (Not Much Has Changed):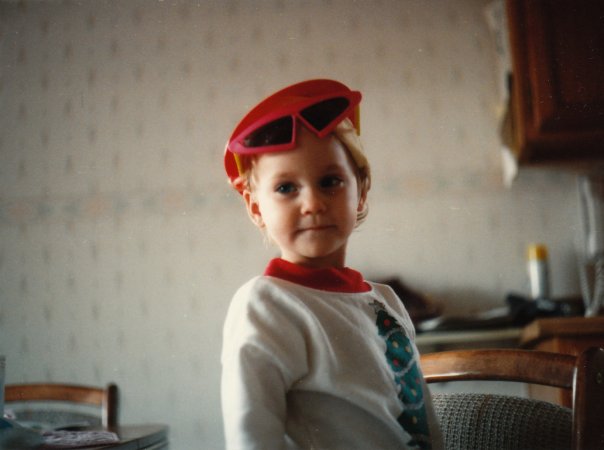 How I Look in Words:
I was born a desert rat in the beautiful state of Arizona. This fostered my proclivity towards nature and the outdoors, as Arizona is a state of stunning and dynamic terrain. After receiving a BFA in Visual Communication from Northern Arizona University (a natural career choice, as I was that girl who spent her entire childhood feeling the need to decorate everything from book reports to birthday cards), my bohemian sensibility led me to seek practical knowledge and personal growth. I moved to a farm in Hawaii, a seafood plant in Alaska, and eventually made my way home before uprooting and finding a new home in Denver, Colorado.
All of my life experiences have influenced my career in one way or another. For one, I have come to realize that I can learn anything with practice and adapt in any environment – and quickly at that. Being fully engaged in the present moment is also one of those life lessons that I have applied to my career. My design process is a subconscious one, and if my mind is cluttered there is no room for a Big Idea to come to fruition. Therefore I take things as they come, avoid resistance and practice presence. 
Being someone who loves to learn and grow with their passion has compelled me to embark on a diverse range of projects (both in my free time and at my nine-to-five) which has helped my skills blossom. As a result, I have learned to progressively: manage my time, develop new techniques to fulfill my vision, design for a multitude of mediums, critically think about design solutions, learn as many shortcuts as possible in Adobe, and interact with clients and colleagues. To-date I've designed everything from the holographic emblem on the discs for a popular gaming device, to letterpressed wedding invitations. All in a timely fashion, too- I have never missed a deadline and am known for my fast turnarounds.
Graphic design is the perfect role for me because inwardly I am not chaotic enough to simply be an artist. I am an inherently structured and organized person. The balance of my creative and organizational prowess make me the idea graphic designer. My work definitely has a distinct style, too. It's influenced by a mix of Scandinavian design, mid-century modernism, and 1960s counterculture. Simple shapes, vibrant colors, balance, and unique grids are all elements that form my design aesthetic. Intrinsic roots in nature, arts, and crafts also show through in my work. I find the integration of hand-made and digital art necessary for comfort and warmth.
Graphic design is essential in the representation of information, especially in the time-constrained, information saturated era we live in. I thrive to develop well organized, aesthetically pleasing graphics with the goal of capturing attention and making information easy for people to comprehend at a glance. I firmly believe that everyone judges a book by its cover. My goal is to have people be inspired enough to pick the book up off the shelf.